Morgan Shields, Ph.D.
Kinesiology Undergraduate Studies
Program Coordinator | Faculty Associate
608-263-2609
285B Med Sci
1300 University Ave
Madison, WI 53706-1121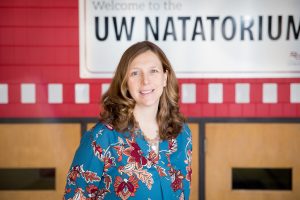 Biography
Dr. Shields grew up in Watertown, WI and played a lot of volleyball including club for Milwaukee Sting and then for the UW Badgers from 1999-2003. As an undergraduate at UW-Madison, Dr. Shields worked in the psychology of motivation lab.  She also played two seasons of professional volleyball in Europe (Sweden and Portugal) and then returned to Wisconsin to pursue her Master's in kinesiology from UWM. Dr. Shields then pursued her Ph.D. in kinesiology (exercise psychology) with Dr. Cook here at UW-Madison. Her dissertation examined psychological responses across a rowing season in student-athletes. Dr. Shields completed a post doc in the department of Orthopedics and coordinated a large study collecting data on student-athletes and traumatic brain injury. Her husband is a men's rowing coach, they have two sons and they love Madison and everything Bucky!
Education
B.A. University of Wisconsin-Madison (majors in psychology, history and certificate in Women's Studies)
M.S. University of Wisconsin-Milwaukee (Kinesiology)
PhD University of Wisconsin-Madison (Kinesiology)