Welcome to the Department of Kinesiology
The Department's mission is to research, teach and apply knowledge related to movement, exercise and human occupation with the ultimate goal of enhancing human health, productivity, and quality of life.  Regular physical activity reduces the risk of developing or dying from some of the leading causes of illness and death in the United States, so the study of movement, exercise and occupation has the potential to dramatically impact health and quality of life.
Feel free to contact us if you have any questions.
Spotlight on Kinesiology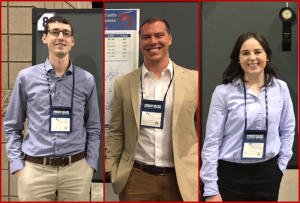 Congratulations 3 of our Grad Students, Adam  Corkery, Ryan Dougherty and Kathleen Miller for being honored at the ACSM Annual Meeting for their scientific abstracts/posters!