Anna Howery, M.S.
Research Specialist
608.262.9572
255A Bardeen
1300 University Ave
Madison, WI 53706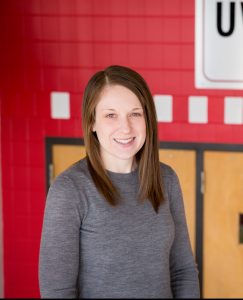 Education:
MS, Exercise Physiology
Carroll University
Waukesha, WI
BS, Rehabilitation Psychology
University of Wisconsin-Madison
Madison, WI
Biography
I have been a Research Specialist in Jill Barnes lab since 2015. During my Master's Degree, I had the opportunity to work with a variety of clinical populations and had a particular interest in performing maximal exercise testing – monitoring and measuring an individuals' response to exercise. In my role working in the lab, I assist in maintaining compliance during each of our research studies, along with assisting in subject recruitment, data collection and data management. When not in the lab, I enjoy training for marathons and cheering on the Badgers and Packers.