Welcome to the Physical Education Teacher Education Program!
Now is an exciting time to enter the field of physical education as this profession is just beginning to tackle our nation's growing problem with inactivity and its associated risk factors to children and adolescents.
The University of Wisconsin-Madison has been offering quality physical education teacher education programs and preparing excellent physical educators since 1911.  The new undergraduate physical education teacher education program has been redesigned to address emerging trends in physical education pedagogy and to include the following critical elements;
Four-year degree program
Cutting-edge conceptual approach to teaching physical education 
Wisconsin PreK-12 teaching certification
"Hands-on" guided teaching
Emphasis on urban, inclusive, and multicultural settings
Encompasses community building and behavior management
A DEGREE PROGRAM WITH "HANDS-ON" GUIDED TEACHING PROVIDES:
Nationally and state recognized faculty and staff members
Certification options in Adapted Physical Education and Health Education
Small class sizes and advising groups
A strong science and technology based curriculum
Instruction within the nationally ranked UW School of Education
Students interested in the Physical Education Teacher Education Program at UW-Madison should view the program information provided on this site and in the current undergraduate catalog.
Spotlight on P.E.T.E.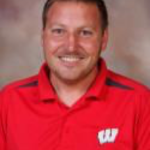 Our PETE Alum, Jacob Breunig, is the State Rep for this amazing program that brings cutting edge technology into Sauk Prairie School District's Physical Education curriculum! He has been a Physical Education teacher for 14 years with 12 in Sauk Prairie. He enjoys working with K-5 students. In his spare time he enjoys coaching soccer and basketball and bowhunting. Read more about this awesome program!