Brittany Travers, Ph.D.
Occupational Therapy
Assistant Professor
608-263-0282
435 Waisman Center
1500 Highland Avenue
Madison, Wisconsin 53705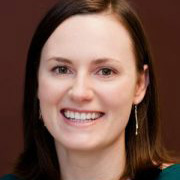 BIOGRAPHY
My research examines motor development and corresponding brain development in individuals with Autism Spectrum Disorder and other developmental disorders. We combine neuroimaging measures using Magnetic Resonance Imaging [MRI] with behavioral measures of motor function and daily living skills. Our research to date suggests that individuals with autism struggle with motor difficulties and that these motor difficulties predict impairments in other domains. Therefore, we are particularly interested in how interventions that target motor ability in ASD may have cascading benefits on an individual's ability to independently function.
The long term goals of this research are to:
Learn how motor difficulties manifest and change with age in autism and other developmental disorders
Understand the underlying brain mechanisms of motor and core symptoms in autism
Find ways that motor performance can be improved to enhance quality of life of people with autism and other developmental disorders
EDUCATION
Postdoctoral, WI
Universiry of Wisconsin – Madison
Madison
Ph D, Cognitive Psychology
University of Alabama
Tuscaloosa, AL
MA, Cognitive Psychology
University of Alabama
Tuscaloosa, AL
BA, Psychology and Spanish, Summa cum laude
Creighton University
Omaha, NE