Kristen Pickett, Ph.D.
Occupational Therapy
Assistant Professor
608-890-2103
2165 Medical Sciences Center
1300 University Ave
Madison, WI 53706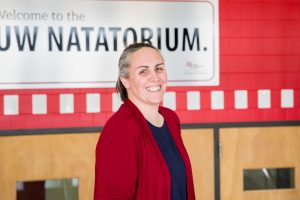 BIOGRAPHY
I am an Assistant Professor in the Occupational Therapy Program in the Department of Kinesiology at the University of Wisconsin – Madison. I completed my B.S. in Biology at the University of Wisconsin – Platteville and my Master's and Doctoral degrees from the University of Minnesota – Twin Cities. After focusing my doctoral work on the use of f-MRI to examine individuals with idiopathic focal hand dystonia, I continued on to the Washington University School of Medicine in St. Louis, MO and completed a postdoctoral experience in the Program in Physical Therapy and the Movement Disorders section of the Department of Neurology. My current focus is on the use of collaborative and community-based research methods aimed at positively impacting meaningful health outcomes for older adults, especially those with Parkinson disease, who have limited access to effective forms of physical activity.
EDUCATION
Postdoctoral, Program of Physical Therapy and Department of Neurology, Movement Disorders Section
Washington University School of Medicine
St. Louis, MO
Ph D, Kinesiology, Biomechanics and Neural Control
University of Minnesota – Twin Cities
Twin Cities, MN
MA, Kinesiology
Univeristy of Minnesota – Twin Cities
Twin Cities, MN
BS, Biology
University of Wisconsin – Platteville
Platteville, WI