Andrea Mason, Ph.D.
Kinesiology | Motor Behavior & Control
Kinesiology Department Chair | Professor
608-262-9904
251 Bardeen
1300 University Ave
Madison, WI 53706-1121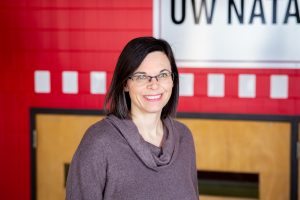 PERSONAL BIOGRAPHY
I was born and raised in Sudbury, Ontario, Canada. I completed my Ph.D. in the Human Motor Systems Lab at Simon Fraser University in Vancouver, British Columbia under the direction of Dr. Christine MacKenzie. For my doctoral dissertation I studied kinematic and grip force patterns as people passed objects to and received objects from a partner. I have been a faculty member in the department of Kinesiology at the University of Wisconsin-Madison since January of 2002.