Jacob Lindheimer, Ph.D.
Research Health Scientist
608-890-2503
2001 Gymnasium-Natatorium
2000 Observatory Dr
Madison, WI 53706-1121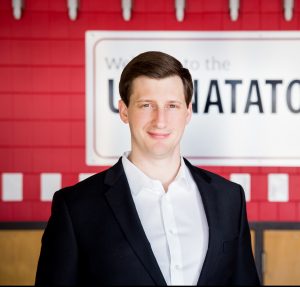 Education history:
2015-2018 Post-doctoral Research Fellowship, War Related Illness and Injury Study Center (WRIISC), VA New Jersey Healthcare System
2011-2015 PhD, Kinesiology (Exercise and Sport Psychology), University of Georgia
2009-2011 MA, Experimental Psychology, Appalachian State University
2005-2009 BS, Psychology, Appalachian State University
Professional Bio:
Dr. Jake Lindheimer is a Research Health Scientist at the William S. Middleton VA Medical Hospital (Madison VA) and also holds an Honorary Research Scientist position with the University of Wisconsin-Madison Department of Kinesiology.
Currently, Jake co-directs the Madison VA Exercise Psychology laboratory alongside Dr. Dane Cook and is a recent recipient of a 5-year Career Development Award (IK2 CX001679) through the Clinical Science branch of the VA Office of Research and Development. The long-term goal of Jake's research project, "Acute exercise tolerance among Veterans with Gulf War Illness", is to develop an evidence-based exercise dose that can be prescribed to Veterans with Gulf War Illness, a prevalent and debilitating condition that affects ~25-33% of Persian Gulf War Veterans.
Jake's general research interests include the following:
Applying laboratory, clinical, and meta-analytic research techniques to investigate the effects of acute and chronic exercise on psychological and physiological health outcomes in healthy and clinical populations
Using exercise challenge protocols to investigate patho-physiological mechanisms of medically unexplained chronic multi-symptom illnesses such as Gulf War Illness, Myalgic Encephalomyelitis/Chronic Fatigue Syndrome (ME/CFS) and Fibromyalgia
Improving the understanding of placebo effects and their respective mechanisms in the context of psychological responses to exercise
Potential collaborators or students with an interest in learning more about Jake's research can connect with him via email or ResearchGate.