Elizabeth Larson, Ph.D., OTR
Occupational Therapy
Associate Professor
608-262-0520
2180 Medical Sciences Center
1300 University Avenue
Madison, WI 53706-1509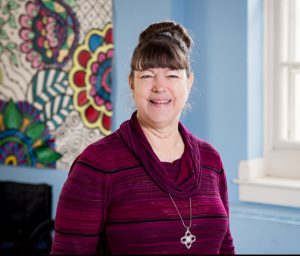 PERSONAL BIOGRAPHY
Dr. Larson is an occupational therapist and occupational scientist with over thirty years of clinical and research experience working with children with disabilities and their families. Her clinical experience has shaped both her teaching and research. Her most recent work focuses on wellness promotion for caregivers, college students and elementary school students.  She has designed a freshman course entitled Living Well: Lifestyle balance and wellness promotion. In this course students track their time use for six days and complete an assignment to change daily routines over six week's time in a way that promotes better lifestyle balance. The focus on wellness is also prominent in her research projects:  5Minutes4Myself a wellness program for caregivers of children with autism; the Active Classroom Engagement (ACE) project and in a project assessing college student's well-being and time-use. The 5Minutes4Myself project, a tailored micro-intervention hybrid app/coaching wellness program for caregivers was  developed with funding from the American Occupational Therapy Foundation and a Virginia Horne Henry Award. The Active Classroom Engagement project, funded by the Madison Foundation for Public Schools, created five "active" elementary school classrooms with 125 standing desks and a movement break curriculum for 3rd to 5th students. In 2015, Dr. Larson was appointed as a fellow of the American Occupational Therapy Association. She was also awarded a Vilas Life Cycle Professorship Award, and service awards from the Society for the Study of Occupation: USA and Mixed Methods International Research Association for her role in establishing these organizations and serving on their inaugural boards.
Education
1996    Doctor of Philosophy, Occupational Science, University of Southern California. Cognate: maternal-child occupations with ecocultural context. Dissertation: Embracing paradox: The daily experience and subjective well-being of Mexican-origin mothers parenting children with disabilities.
1986    Master's of Science, Human Kinetics, University of Wisconsin-Milwaukee. Major emphasis: motor learning/motor control; minor: psychology of human movement.
1981    Bachelor's of Science, Occupational Therapy, University of Wisconsin-Milwaukee.