About Us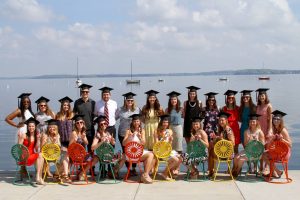 Occupational therapy focuses on an individual's ability to engage in everyday activities that support meaningful participation in life. Occupation refers to the ordinary and familiar things that people do every day in pursuit of fulfilling and healthy lives. Occupational therapists work with individuals of all ages helping them to engage in everyday activities when injury, illness or other conditions affect their lives.   Occupational therapists support an individual's uniqueness and capacity for change, establishing, restoring or maintaining skills and modifying activities and the environments in which they take place to  promote overall health and well being.
About the Occupational Therapy Program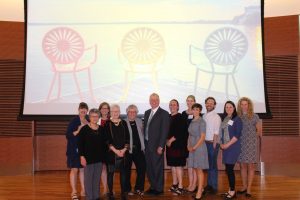 The OT Program at the University of Wisconsin-Madison began offering a Bachelor's degree in 1943. Since its inception, the Program has continually been accredited and has grown in response to the educational, leadership, and research needs of the profession including implementation of a post-professional Master's degree in Therapeutic Science (MS-TS) in 1985, a Doctor of Philosophy in Kinesiology, Therapeutic Science Track (PH.D.-Kinesiology) in 1996,  an entry-level Master's degree in (MS-OT) in 2005 and a post-professional Doctor of OT (OTD) in 2016.  The OT Program is in the process of transitioning to an Entry Level Occupational Therapy Doctorate degree pending approval from ACOTE. We will no longer be accepting applications for the MS-OT program in preparation for this transition.
The University of Wisconsin-Madison is a premier research institution as reflected in the quality of the faculty in the Occupational Therapy Program. Faculty members are recognized nationally and internationally as leading researchers in their field with ongoing funded research programs. Students engage in exemplary research and scholarship with their faculty mentor. The University of Wisconsin campus is situated in the heart of Madison, Wisconsin, a great place to live and learn. The City of Madison has consistently ranked in the top 10 desirable places to live, work and play. It's natural beauty, urban sophistication, recreational opportunities, and active cultural life provide a wide array of offerings to supplement a rich campus life.
This is an accordion element with a series of buttons that open and close related content panels.
Why Occupational Therapy at UW-Madison?
Occupational Therapy Program
Employment of occupational therapists is projected to grow 18% from 2018-2028, much faster than the average for all occupations US Department of Labor
Occupational Therapy ranked 11th overall for health care jobs US News and World Report 2019
UW-Madison OT program was ranked 14th in the nation out of 164 OT programs in 2016 U.S. News & World Report Rankings for OT
UW-Madison OT courses are taught by clinical and research experts in their field
UW-Madison OT program offers inter-professional education (CIPE)
Opportunity for mentored research experience and participation
University of Wisconsin-Madison
Madison, Wisconsin
Occupational Therapy OTD: Post Professional
The Post-Professional Doctor of Occupational Therapy Program (OTD) is a part-time, structured, predominantly online curriculum serving student need for distance access and flexibility in acquiring advanced practice skills. The mission of the program is to train occupational therapists to become visionary leaders, engage in inter-professional education and practice, and facilitate research translation. This program is for OTs seeking advanced leadership skills and applied training. It enables currently practicing therapists to acquire the knowledge and skills required for the transformation of our nations' health and education systems as well as preparation to address the needs of an aging society. CLICK HERE TO LEARN MORE ABOUT THE PROGRAM 
We are pleased to bring you the Fall 2018 online edition of "OT Matters," an annual news publication for alumni and friends of UW-Madison's Occupational Therapy Program.
Cover story: "Building on a Tradition of Excellence: UW-Madison's Occupational Therapy Celebrates 75 years" Take a look back through the program's rich history as a nationally celebrated academic institution.
Letter from the Director: Ruth Benedict recaps the OT program's celebration of 75 years operating on campus and what the significance that celebration meant for the program moving forward onto the next 75 years.
OT News and notes: Check out some program highlights from the past year.
75th Anniversary Highlights: Check out pictures and memories from the 75th Anniversary celebration!
Philanthropy: Read about a recent gift given by a celebrated alumn.
Alumni Spotlight: 3 alumni who have made a profound impact on the OT program today are highlighted
Student news:  Learn about some of the work being conducted by UW-Madison's Student Occupational Therapy Association (SOTA) and Diverse-OT during the 2018-19 academic year.
Faculty Publications:
KEEP IN TOUCH!
The Occupational Therapy Program wants to hear from our alumni and friends. We also want to make sure you are hearing from us. If you have not received electronic updates, it may mean we don't have your current e-mail address. Please email the Wisconsin Alumnni Association with your full name and current e-mail address, or fill out this online form. In addition, the WAA offers free e-mail accounts to all alumni.
Past OT Matters
2017 OT Matters