Our graduate programs in Kinesiology combine advanced courses with the option of an intensive research experience.
Department research facilities are well equipped, and faculty and graduate students have access to other specialized research facilities across campus. Faculty and graduate student research is supported by funding from the state and federal government, research foundations, professional organizations, and private industry.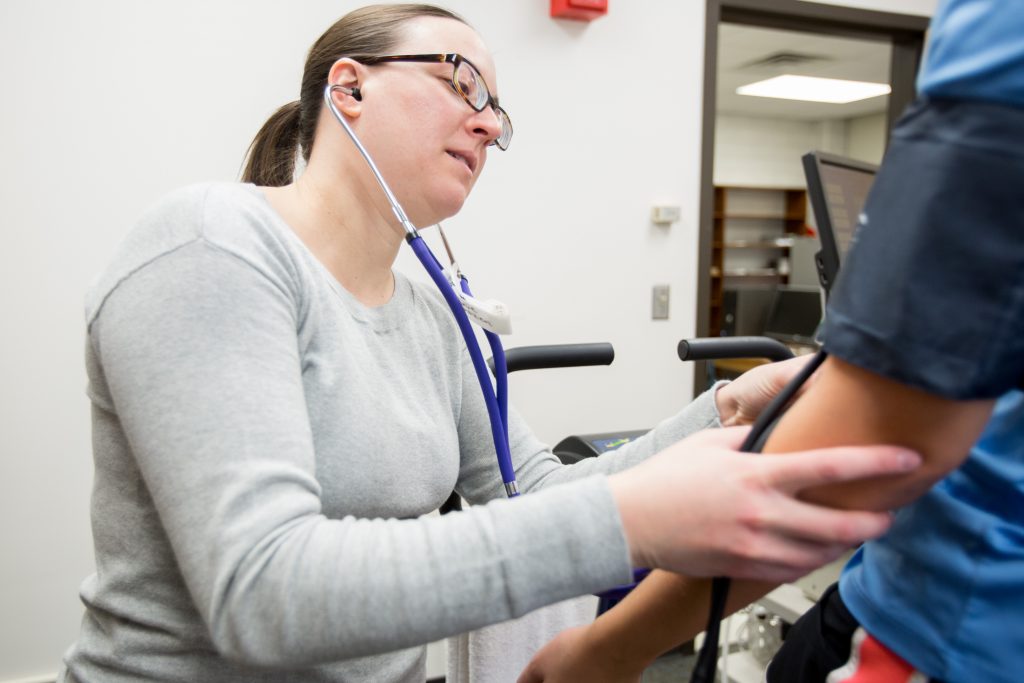 See Specializations and Tracks within this degree below
Comparing Degrees
KINESIOLOGY NON-THESIS MASTER'S PROGRAM
The Non-Thesis MS track is designed for students who are interested in graduate-level training in Kinesiology, but who are not necessarily interested in a career doing research in the field.
This degree supports and interest in coaching/teaching (team or individual), personal training, or fitness instructions. The degree also supplements the practice of physical therapy, athletic training, other allied health professions, or any individual purpose a student may have. Students can use elective credits, internships, and independent studies to customize their program to meet their needs and future career goals.
KINESIOLOGY RESEARCH-BASED MASTER'S PROGRAM
The research-based Master's in Kinesiology is designed to provide a foundation for future studies or research-related careers through advanced coursework and intensive research experiences. Graduates are prepared in a specific area within Kinesiology and are prepared to pursue further graduate training toward a Ph.D. or pursue a research-related career in their chosen field. Students are intensively involved in conducting research throughout their graduate training and present research at regional, national, and international scientific meetings and publish their findings in peer-reviewed journals.
Specialization & Track Overviews
Admissions
The Department of Kinesiology sets no formal deadline for applications, but we recommend having all materials submitted by February 15th for fall semester admissions. This is particularly applicable to non-thesis MS applicants. In general, for all applicants, the Department will review applications until we have no further openings.
The numbered preview below summarizes what you'll need if you apply for the MS or PhD in the Department of Kinesiology at UW-Madison. Then more detailed information follows about each of the numbered application items. We urge you to read the detailed information carefully. If you have questions, you should feel free to contact us.
Online Application. The UW Graduate School Online Application, including its supplemental apps section (to name your Kinesiology area of specialization or track), must all be submitted at the Grad School web site.
Personal Statement. Kinesiology needs your personal statement of reasons for graduate study included within your online application to the UW Graduate School. As part of your personal statement, you should discuss why you want to be considered for the track or area of specialization identified in the supplemental application portion of the online application.
Letters of Reference. Identify at least three persons who can recommend you as qualified for grad study.
Transcripts. All university-level educational transcripts should be provided. You may upload electronic transcripts. Your unofficial transcripts, if legible and complete, will suffice for departmental review. If admitted, official transcripts will need to be submitted to the Graduate School
International Students: TOEFL (or similar). Official scores are requested by the student and submitted electronically to UW-Madison institution code 1846 by Educational Testing Service. Copies are considered unofficial.
Application Fee Grant. The Graduate School offers a limited number of fee grants to ensure the application fee is not a barrier for potential students. Please see the Graduate School site for more information. You can also contact the Kinesiology Grad Coordinator to enquire about fee waivers if you are not eligible or do not receive a grant through the Graduate School.
DEPARTMENTAL CONTACT FOR KINESIOLOGY GRADUATE PROGRAM
All applicants should direct administrative and procedural questions to the Kinesiology Graduate Studies Coordinator at kinesgrad@education.wisc.edu.
This is an accordion element with a series of buttons that open and close related content panels.
Detailed Application Information
ONLINE APPLICATION
The Kinesiology Department reviews applicants and has the right to recommend an applicant's admission to the UW-Madison Graduate School. The Graduate School retains the right to make the final admission decision. To apply for admission, you must submit, via the UW Grad School, your online graduate admission application. The Kinesiology Department reviews your application after you complete and submit it online to Grad School. Kinesiology decides whether to ask Grad School to certify your official admission.
Please NOTE that there is usually substantial time, sometimes months, between application completion and notice-of-outcome. During this time our faculty members do their review. For further discussion, see deadlines below.
PERSONAL STATEMENT
Your statement is your formal application's most consolidated, direct, intensive, and personal communication with Kinesiology faculty. It tells them why you think they should admit you for graduate study and outlines your specific areas of interest. We recommend that you prepare your statement before beginning an online application. Your statement is a significant intellectual exercise, so we hope you will use considerable care and thought in making it compelling and persuasive.
GRADUATE PROGRAM AREAS
If you are admitted to the Kinesiology Grad Program, your admission is to a specific Graduate Program Area, often called a specialization or track. This can be either a research specialization or the non-thesis MS track. Please click the links for each area of specialization to see the advisors, a description of the specialization, and specific requirements and pre-requisites. We encourage students who are interested in performing research to contact faculty advisors within their area of interest to inquire about specific requirements and lab openings.
The Graduate School Application will require you to select an area of specialization from the drop down menu in the supplemental application section. You should also discuss your specialization area of interest in your Personal Statement to explain to the Kinesiology faculty reviewers why you want to be considered for the area of speculation identified. If you are interested in more than one area, but sure to discuss during your personal statement.
Research-based Areas of Specialization:
In a research track, you eventually must develop and apply an experimental methodology in which you hypothesize results about a narrow experimental question in consultation with your faculty advisor. You then evaluate and report actual experimental results in an effort to contribute new knowledge to the expertise in that research area (or to develop new hypotheses for further research).
Non-Research Based Area of Specialization
The non-thesis track is designed for students who have a broad general interest in Kinesiology and would like to receive graduate-level training across all areas of Kinesiology rather than focusing on one specific area. Students may choose from a variety of electives to tailor their MS to their specific educational and career goals.
PREREQUISITE COURSES
A bachelors or master's degree in Kinesiology or related field generally satisfies all the prerequisite requirements. If the bachelor or master's degree was completed in an area outside of Kinesiology, the applicant must complete and Anatomy and Physiology course in addition to two courses from within one of our areas of specialization.
Applicants who lack some prerequisite courses may still be considered for admission. These students would be admitted with "deficiencies." The deficiencies must be made up before a graduate degree will be granted. Often the deficiencies are made up during graduate study, but early applicants with few deficiencies and access to an institution of higher education can sometimes take and document their deficient courses prior to graduate matriculation.
LETTERS OF RECOMMENDATION
At least three letters of recommendation are required for an application to the Kinesiology graduate program. The UW-Madison Graduate School accepts online letters of recommendation, and the online application includes a section that you may use to request online recommendations
Do not submit paper letters or other paper application materials to the Graduate School or to any office or address other than the Kinesiology Grad Program. If you do, they are likely to be delayed, sometimes substantially; or lost/ unidentified.
TRANSCRIPTS
All university-level educational transcripts are required for an application to the Kinesiology graduate program. The Kinesiology graduate program strongly prefers online uploads of transcripts at the application stage. This facilitates online application review. We hope that it is also cheaper, easier, faster and more efficient for applicants, especially those applying to multiple institutions. If you are able to scan a personal copy of your official transcript, or if you can obtain an unofficial electronic transcript, you may upload it to your online admission application.
If the Kinesiology Department ultimately recommends your Grad School admission, then we will need your official transcript(s) so we can send them to the Grad School for their final review. When we require official transcripts, we will notify you.
BACHELOR'S DEGREE & MINIMUM GPA
The UW Graduate School requires all graduate students to have a bachelor's degree (or equivalent) prior to entry into Grad status at UW-Madison. Applications may be submitted while the bachelor's or other undergraduate degree is still in progress, but the undergraduate degree will need to be completed by the start of graduate study. If the bachelor's or equivalent degree will be conferred (officially granted, listed on transcript) after graduate study begins, the UW Graduate School will allow a short grace period for proof-of-degree.
The Graduate School's official minimum GPA for undergraduate work is 3.0 (if the grading scale was A=4.0 as a maximum). A department may seek a waiver of the GPA minimum if it feels that the applicant has a particularly compelling qualitative background.
Applicants whose undergraduate work was evaluated on a grading scale other than A=4.0 may submit transcripts with the original institution's grades, marks, or scores, and UW will do its own conversion.
INTERNATIONAL STUDENTS
ENGLISH COMPETENCY
Applicants whose native language is not English, or whose undergraduate instruction was not exclusively in English, must provide evidence of English competence on the TOEFL or accepted alternate assessment. Please see the page on Graduate School Admission Requirements for more information.
ADEQUATE FUNDS
International students must comply with United States law that requires a showing of adequate funds to cover all expenses, including tuition, for the expected duration of studies here. The Graduate School enforces this requirement. See, the international applicant financial information page for details. If you are an international student (required to make a showing of funds), please do NOT submit financial documentation until the Graduate School specifically instructs you on when, where, and how to do so.
That will occur: a) after you complete your application; and b) only if you are recommended by a department for admission. A showing of funds is unnecessary when you first apply. It can be counter-productive to submit funding information too soon. The amount of funding that an international student must prove is offset by any offer-of-support that the department might make (for example, a teaching assistantship).
Deadlines
The Department of Kinesiology sets no formal deadline for applications, but we recommend having all materials submitted by February 15th for fall semester admissions. This is particularly applicable to non-thesis MS applicants. In general, for all applicants, the Department will review applications until we have no further openings.
The Kinesiology grad program can admit for the fall or spring semester.
You may apply as early as you wish, if the online application is available for the desired term of admission.

Most applications arrive five to ten monthsbefore the desired admission date.

Faculty may review individual applications as they become complete, or they may consolidate several applications for batched review.
Non-thesis MS applications will always be reviewed in batches by a committee.

Application completion by Feb. 15 facilitates this non-thesis committee process.

Sometimes faculty can reach a decision within a few weeks of an individual application being completed. Most of the time, faculty review will take several months.
Most admissions decisions are reached four to eight months before the start of classes
The UW Graduate School does have some deadlines. Applications should be submitted AT LEAST:
Domestic applicants – two weeks before the start of classes
International applicants – six weeks before the start classes
If you will not be able to complete your application by February 15, we might still be able to consider you, but the later your application, the greater your benefit in checking in advance with a graduate faculty member of interest or the Graduate Studies Coordinator about specific circumstances.
While there are no departmental deadlines for admission, there are deadlines for applications for competitively awarded scholarships/fellowships. These applications are generally due in January or February. Graduate students who have been admitted to a program are eligible to compete for scholarship/ fellowship awards for their first year of graduate study. Scholarships and fellowships are competitive, and there is never any assurance of an award. Applicants to the graduate program who wish to be accepted by January should plan to complete their graduate application a minimum of several weeks prior to January of the calendar year they wish to begin graduate study.

Mission Statement
The mission of the Department of Kinesiology is to create, interpret, transmit, and apply knowledge related to movement, exercise, and human occupation with the ultimate goal of enhancing human health, productivity, and quality of life.