If you enjoy sports and physical activity, the human body, solving problems, caring for patients, and working with people then consider a health sciences career in Athletic Training.
Athletic training is an exciting healthcare profession where no two days are alike. One day, an athletic trainer could find themselves working a college basketball game free from injury, and the next day you examine an athlete with a racing heart rate, calm her down, and refer her to a doctor who diagnoses her with cardiomyopathy. Your immediate care and recommendations might have saved the patient's life.
No two days are alike and no two job settings are alike. Scrub in with a surgeon, save lives diagnosing exertional heat stroke at a summer marathon, help workers safely perform on a factory assembly line, treat patients in a clinical setting, or provide healthcare to a professional sports team. Athletic trainers are the healthcare professionals who do all of the above and much more.
For those who crave dynamic, exciting, and challenging work within the healthcare field, athletic training is an incredibly rewarding career. Below, we'll answer common questions from those who are considering the profession.
What is an athletic Trainer
Athletic trainers are frontline healthcare providers. They are educated and trained in a wide variety of injury and illness prevention and treatment strategies focused on optimizing health to improve a person's quality of life. Athletic trainers collaborate with physicians in the prevention, examination, diagnosis, treatment and rehabilitation of emergent, acute or chronic injuries and medical conditions (NATA). Athletic trainers don't only work with athletes, but all types of patients in many different settings. Read more about what athletic trainers do and where they work.
As more attention is placed on long-term safety of athletes and the burden of sports injuries, the athletic training field will expand. The U.S. Bureau of Labor Statistics projects that employment of athletic trainers will grow by 19 percent between 2018 and 2028.
Athletic trainers are sometimes confused with personal trainers, though the professions are very different in terms of education, skillset, and job duties. Athletic training is focused on providing medical services to patients, whereas personal training is focused on fitness instruction.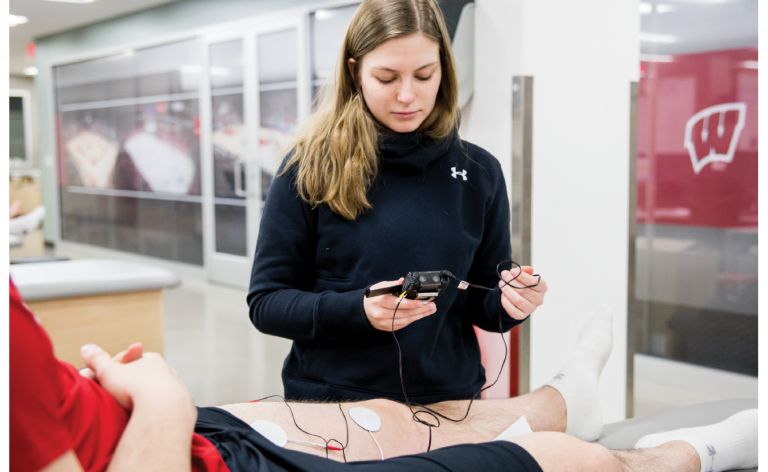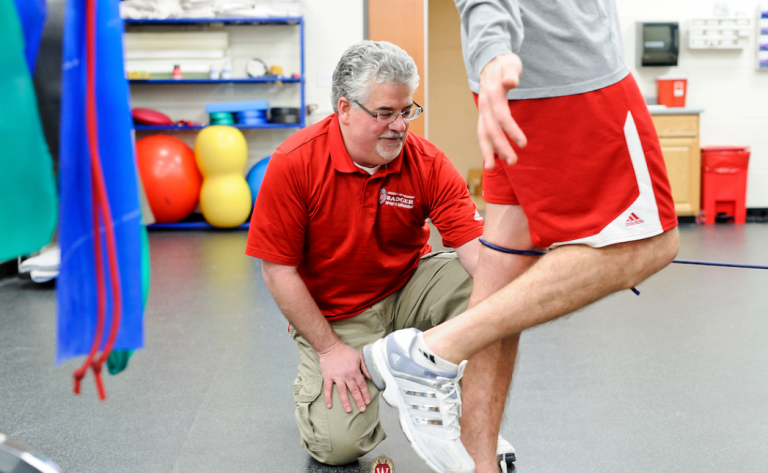 How do you become an Athletic Trainer
To become an athletic trainer, candidates must do two things:
Graduate with a degree in Athletic Training from an accredited athletic training program such as the Master of Science in Athletic Training (MSAT) at UW–Madison.
Successfully pass the Board of Certification (BOC) Exam.
In 49 states and the District of Columbia you must hold a credential (license) to practice athletic training.
Note: Degrees in physical therapy, exercise science, strength and conditioning or other areas DO NOT qualify you to sit for the BOC examination.
What type of Education does an Athletic Trainer Need
The athletic training profession is in the process of transitioning to the master's degree as the professional standard. A master's degree will be required to sit for the Board of Certification exam in AT. Athletic training programs may not admit students to bachelor's level programs after the start of the 2022 term. UW–Madison transitioned to the MSAT in 2020 and will enroll its first cohort in the Summer of 2021. 
Students who wish to pursue the MSAT at UW–Madison should review the MSAT pre-requisite requirements and admission requirements. Students can pursue any undergraduate degree as long as they meet the prerequisites. As a health sciences profession, undergraduate preparation includes some basic science (chemistry, physics, biology), human anatomy and physiology, and exercise science. Students may wish to consider the Kinesiology: Exercise and Movement Science degree program for their undergraduate major. In addition, students should consider the undergraduate certificate in Athletic Healthcare as a companion to their degree. The Certificate in Athletic Healthcare provides a structured undergraduate offering for students with an interest in healthcare for active populations. Students acquire specialized knowledge related to the fields of healthcare, sports, medicine, and physically active populations.
The UW Madison MSAT Program
The MSAT program presents athletic training at its most modern. The curriculum provides rigorous preparation in core health competencies and athletic training theory, while emphasizing new technology, evidence-guided practice, patient advocacy, and social responsibility. Master's students have opportunities to learn from award-winning faculty, participate in cutting-edge research, gain clinical experiences in a Division I Big Ten setting, and have immersive clinical rotations in a variety of locations across Wisconsin and the U.S.
These experiences can set the stage for future employment opportunities.