From the ATEP Program Director
Welcome to the Athletic Training Education Program web site!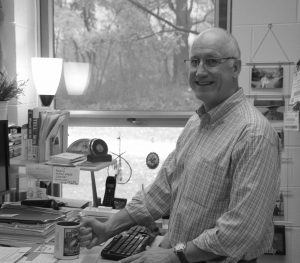 The UW-Madison Athletic Training Education Program is an undergraduate entry-level professional program housed in the Dept. of Kinesiology. The Athletic Training Education Program seeks to be a leader in athletic training education by offering a program that provides a strong basic science foundation coupled with extensive didactic, laboratory, clinical and field experiences. The program uses a variety of student-centered learning opportunities to develop critical thinking, problem solving, and decision-making skills required to enter the allied health profession of athletic training.
The ATEP has an excellent first time pass rate on the Board of Certification (BOC) examination, a great track record of student placement for graduate study and entry-level employment in a variety of work settings.
Students in the ATEP are taught by faculty and instructors dedicated to the providing students with knowledge on the cutting edge of current research and clinical practice. Dr. David Bell's Wisconsin Injury and Sport Laboratory (WISL) is the heart of the ATEP research efforts on the UW-Madison campus. The program is blessed to provide clinical learning opportunities in state of the art clinical facilities through the Division of Intercollegiate Athletics. ATEP students also obtain clinical experiences in the secondary school setting in area high schools.
Our program stands on the shoulders of many alumni and friends who promote the Wisconsin Idea and represent our program from coast to coast. Through their generosity and our partnership with the Wisconsin Alumni Association we are able to offer a range of scholarships, support continuing education, and explore creative ways to engage learners.
Above all the most important component of the ATEP is our students. In my opinion we attract the best and the brightest collection of dedicated learners in the country.
Thank you for visiting our site and please contact us if you have any questions.
On Wisconsin!
Andrew P. Winterstein PhD, ATC
Clinical Professor
AT Program Director
What students say about the Athletic Training Program
"The athletic training education program has been a rewarding, challenging, and incredible undergraduate experience. Not only have I learned more about this field then I ever thought possible, but I've gotten to meet some amazing people and make great friends."
"The athletic training program helps take a large campus and turn it into a small family."
"The ability to use the
knowledge gained through class and applying it in the clinical experience setting has given me the confidence that I will carry for the rest of my life as I continue my education as an athletic training student, and soon, as a certified athletic trainer."
Excellent placement of ATEP graduates into graduate assistantships, professional programs, and entry-level employment
Excellent success on the BOC Certification exam. First time pass rate well above the national average
A program build on a foundation of basic science and evidence-based practice
Clinical experience in an exciting Division I athletic setting
Clinical rotations in the secondary school setting
Experienced and dedicated faculty and staff
CAATE accredited and in good standing — next self study and site visit 2012-13 Program strengths identified in most recent CAATE site visit:
AT Major option in Kinesiology (soon to transition to a BS Degree)
Strong involvement of other allied health professionals
Athletic Training Lecture Series Exceptional science curriculum
Capstone courses to provide review and enhancement of skills
Exceptional library resources
Multiples state of the art facilities for clinical learning opportunities
Students in ATEP are highly energetic and motivated to learn and become athletic trainers
AT Program Outcomes and Program Assessment
The University of Wisconsin-Madison AT Program prides itself on having excellent program outcomes. Below are the program's three year aggregate results on the Board of Certification examination.
The UW AT Professional Preparation Program has had a 100% pass rate for the past five years placing it in the upper echelon of all AT Professional Programs.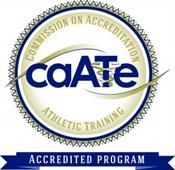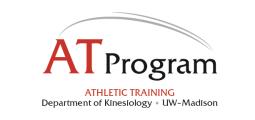 UNIVERSITY OF WISCONSIN-MADISON
CAMPUS AND COMMUNITY
A beautiful campus of 933 acres along the shore of Lake Mendota
5 area lakes and more than 100 miles of running, hiking, and biking trails in Madison
The benefits of being situated in the state capital city of Madison (pop. 220,000), which tops many "best" lists—best place to live and work, best college sports town, one of America's safest cities, and a top green city
A convenient south central Wisconsin location, 80 miles from Milwaukee, 150 miles from Chicago, and 270 miles from Minneapolis
Just 10 minutes from Dane County Airport, which offers more than 100 daily flights and nonstop flights to 14 major cities
GREAT VALUE
Wisconsin's combination of academic excellence and great value recognized by The Princeton Review, Barron's Best Buys in College Education, Kiplinger's Personal Finance, and The Fiske Guide to Colleges