The Athletic Training Program prepares students as professional athletic trainers. Accredited by the Commission on Accreditation of Athletic Training Education (CAATE), the program provides students with the theoretical and clinical foundation needed to succeed as a certified athletic trainer.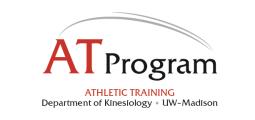 The Athletic Training program places an emphasis on the basic sciences. The option includes athletic training courses that focus on the prevention, management, and rehabilitation of injuries and illnesses; content areas in general medical issues, nutrition and pharmacology (full semester courses in these topics); course credits for field experiences; and a field experience in Athletic Training course taken in conjunction with a high school rotation. Students should consult the program learning outcomes for more information on program goals.
Admission to this program is limited and competitive. Students must meet minimum eligibility requirements to be considered for selection. See more on admissions below.
Program Overview
The Bachelors of Science Degree in Athletic Training is a professional preparation program in an allied health profession. Students completing the program are eligible for the national board exam offered by the BOC to become a certified athletic trainer. The program requires very specific classroom and clinical  in a sequence that cannot be adjusted.
Time to degree completion: The professional program sequence can be completed in four semesters; however the majority of students complete the professional sequence in five semesters. Many factors can influence this decision including, advanced placement credits, humanities and social science electives yet to be completed, and sequencing in the science core. An individualized program plan is completed for each student upon admission to the AT Program.
Curriculum
The 120-credit BS in Athletic Training provides rigorous preparation in liberal studies, basic sciences, athletic training theory and clinical practice, and kinesiology core courses. Students participate in clinical and field experiences and a capstone experience. The program prides itself on the quality and rigor of the student's academic and clinic experience. The five program components are:
The Athletic Training option has five components:
Liberal studies and general education courses expose students to a broad range of academic disciplines.
Science core course work offers in-depth study of the basic sciences and mathematics.
Kinesiology core courses look at how the body responds and adapts to exercise, the role of psychological factors in sports and exercise, mechanics applied to biological systems, and how movement is controlled, learned, and developed over the life span.
Major option course work offers advanced study in the option areas.
Elective classes are generally related to the student's area of study.
The program seeks to prepare students for graduate study in athletic training and provide a foundation for national board certification and entry-level career opportunities.
Visit the AT Homepage to learn more about the program!